It's time to start thinking about Christmas cards! I know it's only October, but by the time you get the perfect photo(s), design your cards, order them, and then mail them...well, Christmas will be over if you don't act soon!
We love using
Shutterfly
for
all our cards
, such as last year's Christmas card:
So of course I've been shopping around through
Shutterfly's Christmas cards
this year. I love the ones with multiple photos in case you can't get a great family picture: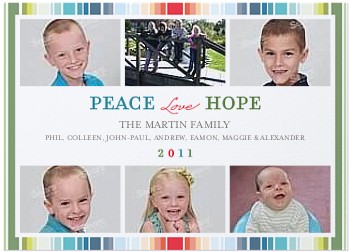 Aren't these cards so cute?
But if we can get a somewhat respectable group photo, I think this one is perfect considering we just had a new addition this year:
So which cards will you choose? What's that? You want some free cards? My my, you are pushy...but ask and you shall receive!
Two of my readers will receive 25 free cards from Shutterfly! That's right, it's a GIVEAWAY!!
You can enter twice:
1) Become a follower (if you're not already), and leave me a comment telling me you are one.
2) Leave me a comment telling me your favorite holiday tradition.
I will randomly pick the two winners on Sunday, November 6th, 2011 at noon, so submit your entries by then. Thanks for playing!